In 1993 Mr. Cohen launched his own practice so that he could devote more time to his growing clientele. In 1998, Mr. Cohen was appointed Municipal Prosecutor for the Township of Union where he held the position for 5 years. During that time he was President of the Union County Municipal Prosecutors Association. At his request, he was appointed Public Defender for Union Township, and resigned as prosecutor to better serve his clients who needed municpal and criminal defense. Mr. Cohen continues to serve as Public Defender, a part time position.
Mr. Cohen has tried numerous bench and jury trials in Superior Court and Municipal Court. From DWI cases to personal injury cases, Mr. Cohen routinely gets high praise from his clients and adversaries.
Mr. Cohen is a member of the New Jersey State Bar Association as well as the Union County Bar Association. He is also a member of the Association of Trial Attorneys (ATLA-NJ) and the Richard Hughes Inns of Court. He is also past president of the Exchange Club of Union and a former member of the Union County Narcotics Advisory Board.
Enrique M. Lamela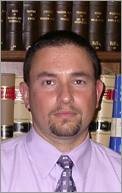 Mr. Lamela received his bachelor.s degree from Rutgers University in New Brunswick, New Jersey and his law degree from St. Louis University School of Law in St. Louis, Missouri.
Mr. Lamela's experiences include a clerkship with the Honorable Margaret M. Neill of the 22nd Judicial Circuit of Missouri as well as with the Law Offices John Wendler handling insurance defense work in St. Louis, Missouri. Upon graduating from law school Mr. Lamela took an associate position with his current partner. Mr. Lamela's primary practice areas are personal injury, landlord/tenant, real estate, criminal defense and municipal matters. Mr. Lamela was the public defender for the Borough of Kenilworth in 2004.
His fluency in Spanish allows his Spanish speaking clients to have direct contact with their attorney. Mr. Lamela appears regularly in both Superior and Municipal Court and has trial experience in each court.